Main content starts here, tab to start navigating
Menus
The menus below represent the fresh, exciting selections available for on-site dining. Additionally, we offer a modified menu for curbside pick-up, available to order online here. However, do not order curbside pickup online for dining in - please place your order with a server. Thank you.
All the best,
Les & Beth Barnes
Cocktails
Hand-crafted by our resident mixologists from the freshest ingredients and finest spirits.
Saltaire Old-Fashioned

Bulleit Rye, Home Made Apple-Cinnamon Infusion, Orange Bitters

$17

Coffee Old Fashioned

Four Roses Bourbon, Kahlua Coffee Liquor, Demerra Infused Syrup, Cocoa Powder Garnish

$17

Dirty Lizzie Martini

Chilled Titos, Fresh Olive Juice, Grande Bleu Cheese Olives

$19

Spicy Angry Pescado

Blanco Tequila, Fresh Pressed Grapefruit and Lime, Habanero Syrup, Pico Limon Rim

$17

Blood Orange Margarita

Fresh Blood Orange Juice, Tequila Blanco, Combier, Splash of Lime

$17

Smokey Rosey

Los Vecinos Mezcal, Fresh Lime Juice, Agave, Orange Bitters

$18

Tamarind Margarita

Tequila Blanco, Lime Juice, Infused Tamarind

$17

Citrus Lychee Martini

Stoli Citrus Vodka, St Germain, Lemon, Lychee, Chambord Float

$17

Sparkling Rose Sangria

Rose Wine, Brandy, Combier, Pineapple & Pomegranate Juice,Fresh Strawberries, Processo Float

$17
If You Have a Food Allergy, Please Notify a Manager or Your Server/Bartender
Consuming raw or undercooked meats, poultry, seafood, shellfish, or eggs may increase your risk of food-borne illness
Beer on Draught
Crispy Morning Pilsner, Finback Brewery

Pale Ale, Crisp, Lightly Floral, Easy Drinking 5% abv

$8

Summer Ale, Brooklyn Brewery

Pale Ale, Crisp, Lightly Flooral, Easy Drinking , 5%abv

$7

Stella Artois

Light, crisp and refreshing yet still full flavored

$7

Juice Bomb, Sloop Brewing

New England IPA, Hopewell Junction NY Hazy, golden and unfiltered with a full hop flavor that is minimally bitter and more citrus focused 6.5% abv

$9

Guiness

Irish Dry Stout, Ireland The quintessential Irish stout— Dark, coffee colored ale with a heavy yet smooth body and a creamy head of nitrous pushed foam. The definition of classic. 4.6% abv

$7

Lunch IPA, Maine Brewing

Aromas of citrus, guava, subtle pine and a sweet caramel-malt finish 5.5% abv

$9

Helles Lager, von Trapp Brewing

floral hop aroma, bready malt balance ,a dry, snappy finish spicy, herbal hop aroma, incredibly clean, yet complex, lager 4.9%abv

$7

Pabst Blue Ribbon

Smooth, full bodied beer with a clean, crisp finish with a fine noble hop aroma

$6

Allagash, Belgian White

A refreshing balance of Citrus & Spice, Coriander & Orange Peel round out the Flavor of this Hazy Belgian-style wheat beer. 5.2% abv

$7
Packaged Beers
Little Whaleboat "IPA"

Indian Pale Ale, 16.9 oz, 6.5% Abv

$12

Rolling In Clouds "IPA"

Hazy Citrus and Spicy Notes with a Juicy Bite 7.1% abv *16 oz can

$12

The Crisp, Sixpoint Brewery

Noble Hope, Distinct Woody Bite 5.4%abv

$6

Down East Cider

Original Blend 5.1% abv* 12 Oz Can

$7

Narragansett Lager, Can

Hi-Neighbor! This Rhode Island staple is light, sweet, smooth and salty— Which makes it a perfect partner to steamers, raw clams and mussles. 5% abv

$6

Pacifico Clara, Bottle

Peppery Mexican style Lager from the folks that bring you Modelo.

$6

Heinenken Light, Bottle

German Style American Light Beer. 3.3% abv

$6
Daily Oyster Selection
Daily Oyster Selection

Saltaire serves a wide variety of East and West Coast Oysters that change on a daily basis, prices vary
The Famous Raw Bar
HOOK

Half Lobster, 3 Jumbo Shrimp, 3 Jonah Crab Claws, 3 Clams, 3 Oysters (Chef's Choice), 2oz Jumbo Crab Meat

Serves 2-3 $65

LINE

1lb Lobster, 6 Jumbo Shrimp, 6 Jonah Crab Claws, 6 Oysters (Chefs Choice), 6 Clams, 2oz Jumbo Crab Meat 2oz Tuna Tartar

Serves 4-5 $110

SINKER

One and a Half]Lobsters, 9 Jumbo Shrimp, 8 Jonah Crab Claws, 10 Clams, 10 Oysters (Chefs Choice), 3oz. Tuna Tartar, 2oz Jumbo Crab Meat

Serves 6-7 $175

Jumbo Shrimp Cocktail

4 Chilled Shrimp, House Cocktail Sauce, Lemon

$22 per each

Chilled Lobster

1.25 lb Lobster, Split and Cracked, Garlic Aioli, Traditional Mustard Sauce

1.25lb $39

Sevruga Caviar

Traditional Garnishes, Blinis, 28 grams

$250

Littleneck & Topneck Clams

Hardshell Clams from CT & RI

$1.75 per each
Salads
Baby Iceberg Wedge

Crispy Lardons, Blue Cheese, Radish, Scallions, Crumbled Blue Cheese Dressing

$16

Truffle Caesar Salad

Hearts of Romaine, Reggiano, Truffle Caesar Dressing, Anchovies, House Croutons

$16

Simple Geens

Mixed Greens, Shaved Carrots, Radish, Cider Vinaigrette

$14

Select Your Protein

Sliced Grilled Chicken $13

Jumbo Grilled Shrimp $22

Ora King Salmon Filet $25

Grilled Prime Skirt Steak $23

1/4 lb Fresh Picked Lobster Meat $38
Starters
New England Clam Chowder

Potatoes, Leeks, Cream, Bacon

$15

Oysters & Prestige Caviar

4 grams/ Mannys Selection of 4 Oysters

$35

Jumbo Shrimp Cocktail

Four Pieces, House Cocktail Sauce , Horseradish, Lemon,

$20

Jumbo Lump Crab Meat

4 oz, House Cocktail Sauce

$29

Crispy Berkshire Pork Belly

Curry Polenta, Maine Blueberry Glaze, Toasted Pistachios

$15

Fried Ispwich Clam

Whole Belly Fried Clams, House Tarter

$16

Crispy Cauliflower

Green Apple, Sunflower Seed, Harissa Chili Glaze

$16

Fried Point Judith Calamari

Charred Shishito and Fresno Peppers, Basil, Orange- Poppy Seed Dipping Sauce

$16

Grilled Spanish Octopus

Roasted Fingerling Potatoes, Pickled Red Onion, Chorizo, Garlic Aioli

$19

Maine Steamers

Celery, Leeks, Thyme, Drawn Butter. Available Half or Full Portion

14 $28

Steamed Crab & Shrimp Dumplings

Ponzu & Thai Chili

6 $18 per 6

12 $36 per 12

Yellowfin Tuna Tartar

Avocado mousse, scallions, tomato vinaigrette, tobiko, crispy wontons chips,

$19

Hawaiian Salmon Poke Bowl

Black Garlic Ponzu, Pineapple Jasmine Rice, Avacado, Scallion, Watermelon Raddish, Sesame seeds

$18
Classic Sandwiches
Served with choice of Saltaire Fries or Side Salad +$3 for Truffle Parmesan Fries
Saltaire Lobster Roll

Butter Poached, Toasted New England Roll, Pickled Celery, Garden Herbs

$38

Prime Burger — 10oz Patty

Aged Cheddar, Spicy Bacon Jam, Frizzled Onions, House Cut Fries

$23
Kitchen Plates
Maryland Lump Crab Cakes

Simple Field Greens, Chorizo Aioli

$39

Columbia River Wild King Salmon

Seared Seasonal Vegetable, Beaurre Blanc

$42

Crispy Whole Sea Bass

Thai Relish, Crispy Potato Noodle

$39

Saltaire Surf and Turf

8oz Filet Mignon, 6oz Cold Water Lobster Tail, Seasonal Vegetable

$72

Sesame Crusted Seared Tuna

Grilled Figs, Arugula Salad, Pickled Beet, Tomato Vinaigrette

$39

Filet of Branzino

Saffron Barigoule with Oyster Musgroom, Radish

$39

Pan Fried Lemon Sole

Seasonal Vegetable, Beurre Blanc

$36

Atlantic Swordfish

Traditional Cajun Blackened, Bourbon Hollandaise, Seasonal Vegetable

$44

Canadian Halibut Cassoulet

White Beans, Plum Tomato, Carrot, Fennel, White Wine

$44

Lobster Carbonara

Lobster Cream, Pancetta, Fresh Pickled Lobster, Linguini

$41

Hollander Mussel Pot

Select from Sauce Fra Diavolo, Provencal White Wine Broth, Thai, Coconut Milk, Lime Leaf, Shallot, Cilantro

$30
Steak & Chops
Filet Mignon — 8oz Cut

Grilled to Your Liking, Sauce Chimichurri or Au Poivre

$42

Steak Frites

"Prime Skirt Steak", Marinated in Chimichurri,

$40

"PRIME" Bone-In NY Strip- 18oz

$69

PRIME Tomahawk Rib Eye - 32oz

Longbone, For Two

$125
Lobster
Steamed Whole Lobster M/P

Live Lobster Available 1.5 lbs up to 4.5 lbs | All Lobsters Are Accompanied with Roasted Fingerling Potato, Seasonal Vegetable, Drawn Butter

South African Lobster Tail

Choice of One or Two Coldwater Lobster Tails, Drawn Butter, Confit of Purple Potato and Seasonal Vegetable.

Single Tail $33

Twin Tails $66
Sides
Truffle Lobster Mac & Cheese

$21

Saltaire Fries

Sea Salt, Ketchup

$7

Truffle Parmesan Fries

Truffle Oil, Grated Parmesan, Ketchup

$10

Roasted Fingerling Potatoes

$10

SEASONAL VEGETABLES

Daily Selection

$10

Fresh Sautéed Spinach

EVVO, garlic, shallots

$12
Sweets
Bread Pudding

Vanilla Ice Cream, Salted Caramel Apple Drizzle

$14

Big Fat Chocolate Cake

4 layers, Chocolate Ganache, Whipped Cream. Perfect for Celebrations & Enough to Share

$19

Strawberry Shortcake

Homemade Crumbled Biscuit, Strawberries Marinated in Grand Marnier, Whipped Cream & Strawberry Surup

$16

Key Lime Pie

Fresh Whipped Cream

$13

Gelato & Sorbet

Seasonal Selections

$9
If You Have a Food Allergy, Please Notify a Manager or Your Server/Bartender
Consuming raw or undercooked meats, poultry, seafood, shellfish, or eggs may increase your risk of food-borne illness
Slide 1 of 5
Slide 2 of 5
Slide 3 of 5
Slide 4 of 5
Slide 5 of 5
Happy Hour is available in THE OYSTER LOUNGE
Join Us from for small plates, snacks and drinks - all at a very happy price in our Oyster Lounge.
| | |
| --- | --- |
| Tuesday | 4:00pm to 6:00pm |
| Wednesday | 4:00pm to 6:00pm |
| Thursday | 4:00pm to 6:00pm |
| Friday | 4:00pm to 6:00pm |
| Saturday | 3:30pm to 5:30pm |
| Sunday | 3:30pm to 5:30pm |
Bites
Selected Oysters at 50% off our regular price

Oysters Chilled and Shucked, House Cocktail Sauce. Today's featured oyster Conway Royals, PEI

Each

Triple Threat

4 Oysters (Mannys Choice), Narragansett, A Shot of Jameson

$15

Saltaire Oyster Po' Boy Slider

Remoulade, Lettuce

$11

Pulled Chicken Taco

Tinga, Shredded Lettuce, Chipotle Crema

$7

Cubano Slider

Pickles, Montery Jack, Mustard

$8 per each

Sauteed Clams Sofrito

Pickell Fennel, Cilantro

$13

Peel and Eat "Old Bay" Shrimp

Half Pound, Beer Poached

$13

Mussels Provencal

White Wine, Shallots, Garlic, Parsley Butter, Toasted Baguette

$13

House Cut Fries

$7

Truffle Parmesean Fries

$10
Beer on Draught
Summer Ale

Pale ale, crisp, lightly floral, easy drinking 5% abv

$5

Narragansett

"Beer of the Clam" Lager 12oz Can

$5
If You Have a Food Allergy, Please Notify a Manager or Your Server/Bartender
Consuming raw or undercooked meats, poultry, seafood, shellfish, or eggs may increase your risk of food-borne illness
Featured Cocktails
Saltaire Kool-Aid

Dry Gin, Pomegranate, Fresh Pressed Lime, Topped with Lime Wheel & Pomegranate Seeds

$12

'Son Of A "Peach"

Peach-Habanero Infused Vodka, Homemade Peach Syrup and Freshly Squeezed Lemon

$12

Bee's Knees

Haymans Dry Gin, Fresh Pressed Lemon, Honey Infusion

$10

The Abendroth

Stolichnaya Orange, St.Germain, Fresh Lemon Juice, Basil

$10

Sparkling Rose Sangria

Rose Wine, Brandy, Combier, Pineapple & Pomegranate Juice,Fresh Strawberries, Processo Float

$11
Featured Wines by the Glass
Rose

La Patience, Provence, France 2021

$10

Chardonnay

Wagner, Unoaked, New York 2020

$11

Ugni Blanc

Domaine du Tariquet, Cotes de Gascone, France 2019

$11

Montepulciano D'Abruzzio

Quattro Mani, Italy 2019

$10
SALTAIRE PRESENTS
Devin Daversa
Wednesday, September 28th
6:00 - 9:00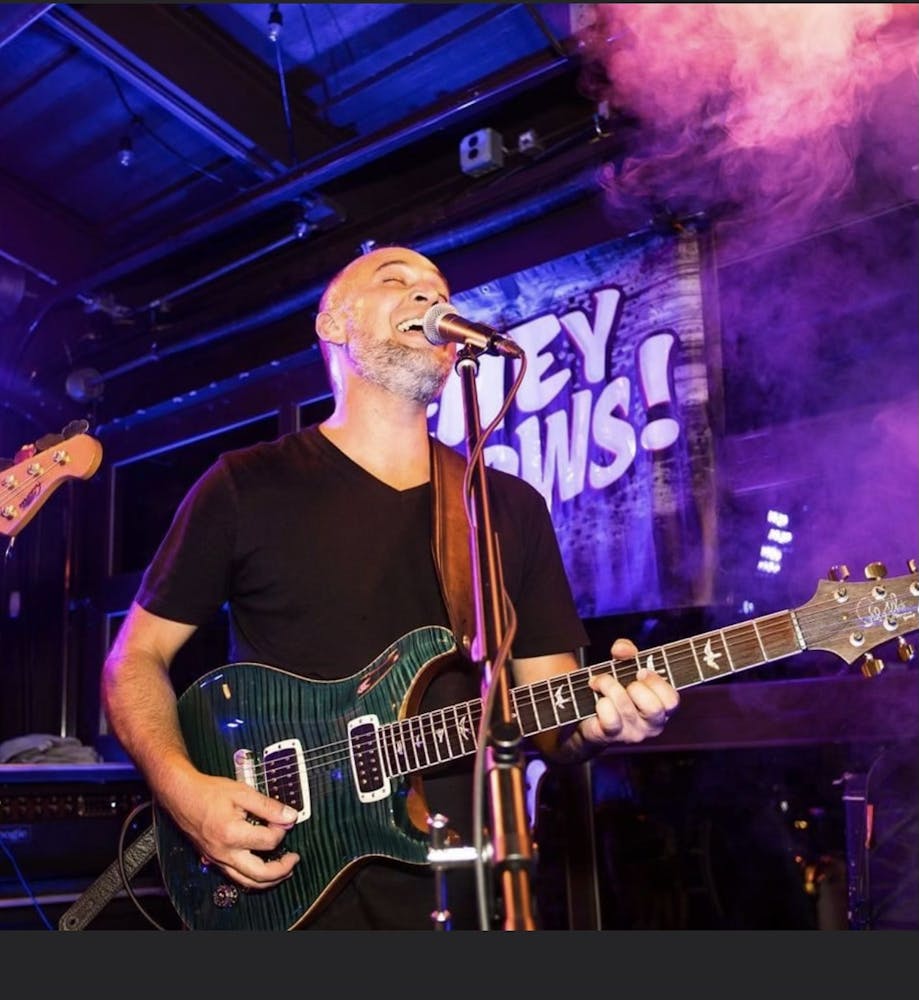 Slide 1 of 3
Slide 2 of 3
Slide 3 of 3