Main content starts here, tab to start navigating
Menus
Saltaire presents its SALT TO GO MENU,
available for Curbside Pickup and Local Delivery.
Available Tuesday, Wednesday, Thursday and Sunday 4:00 PM - 8:00 PM
Friday and Saturday 4:00 PM- 9:00 PM
Closed Monday
Our regular menu will make its triumphant return when Saltaire reopens for dine-in service in the near future.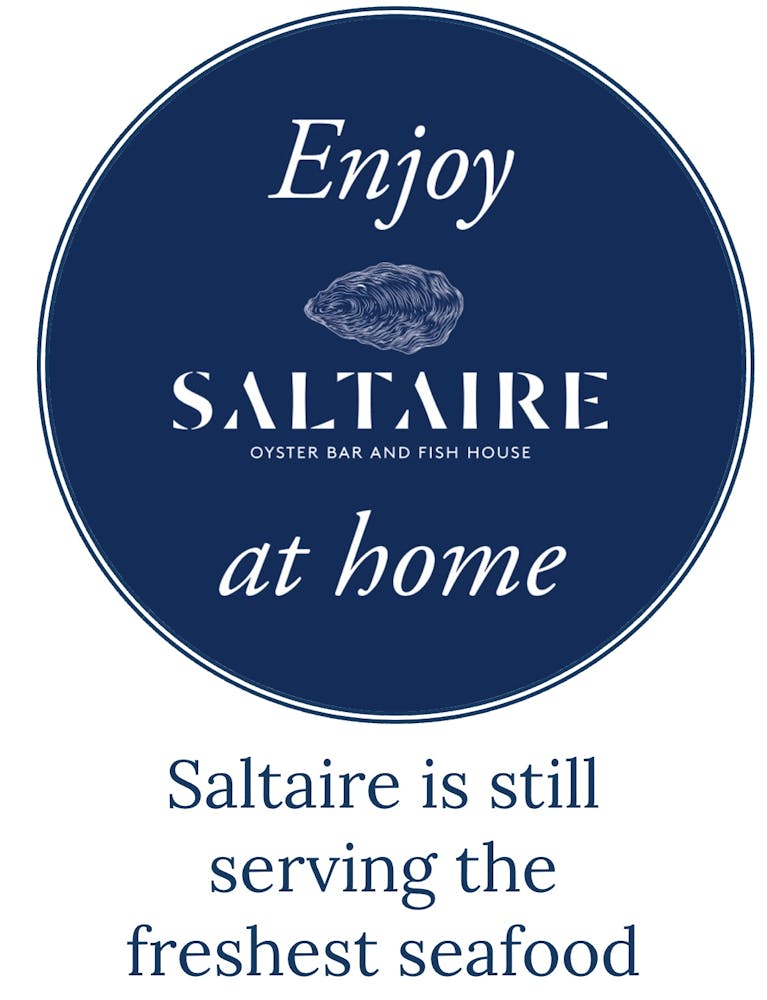 The Salt to Go Menu is a limited time menu and is subject to change at any time.
The Saltaire Cocktails @Home line brings hand-crafted restaurant quality drinks into your happy home, no shaker required! Each 750ml bottle offers up about 6 four ounce cocktails and can be enjoyed on ice, straight out of the bottle.
No. 1 'OLD-FASHIONED' PUNCH

CURRENTLY RETIRED! Cocktail No. 1 The Old Fashioned Punch combines the sophistication of The Old Fashioned with a slow-sipping down home punch for an unforgettable cocktail experience.

$28

No.2 SPA DAY

Cocktail No. 2 Spa Day is a rejuvenating blend of fresh squeezed lemonade, London Dry Gin and pleasingly aromatic lavender flowers. Throw some cukes on your eyes, an Enya CD on the hi-fi and just saaaail away.

$28

No.3 BASIL-GRAPEFRUIT DAIQUIRI

Cocktail No. 3 The Basil-Grapefruit Daiquiri introduces a delicious blend of Caribbean rums to sharp herbaceous basil and Ruby Red grapefruit juice for an earthy, sweet-tart delight.

$28

No.4 SPICY ROASTED PINEAPPLE MARGARITA

Cocktail No. 4 The SPICY Roasted Pineapple Margarita lives up to its name with a potent kick from fresh green and red chilis. The inferno is tempered with sweet caramelized pineapple whipped into a classic Margarita recipe. PLEASE NOTE* As a pre-made beverage, we are unable to alter the spice level or remove the heat component entirely. If you're not a fan of heat, we recommend the Basil-Grapefruit Daiquiri!

$28

No.5 HEIRLOOM BLOODY MARY

It's here! Cocktail No. 5, the Smoked Heirloom Bloody Mary features roasted and smoked organic heirloom tomatoes, a secret blend of herbs, spices and seasonings and a smooth jolt of American gluten-free vodka. Lovingly crafted from only the highest quality ingredients, this Mary is strictly a weekend warrior— Available only Saturday and Sunday in limited quantities!

$30

No.7 OH, HONEY!

Cocktail No.7 is for anybody that has a sweet-tooth with a bite! Smooth Kentucky Bourbon plays well against apricot, lemon and most of all local wildflower honey for a candy-coated taste sensation that will have you saying OH, HONEY! Excellent when poured 50/50 with club soda as well!

$28

No.6 XTRA DIRTY MARTOONI — A SALT MINI

For those who think dirty— Here comes the Saltaire Cocktails @Home spin on a traditional Vodka martini. Each 8oz bottle pours up two full crisp, refreshing, premium Martoonis with a big hit of Castlevetrano olive brine. The experience is rounded out with a hint of dry vermouth and the surprising yet restrained presence of orange essence. And yes, we use only gluten-free American corn based Vodka.

$20

No.8 CLASSIC MANHATTAN — A SALT MINI

It's a walk on the dark side with the big mood of cocktail No.8 the Classic Manhattan. If our Martooni is Jackie, this is certainly our Marilyn. Premium American Rye Whiskey is braced by sultry Italian vermouth and capped off with aromtic bitters for a pleasingly balanced, never too sweet drinking experience. And if you pick up on the subtle smoke of flamed orange zest, you're not wrong.

$20

COMING SOON — No.9 SALTAIRE NUMBER NINE

Launching May 22nd: The latest and most puzzlingly refreshing of the Saltaire Cocktails @Home, the Saltaire Number Nine. Silver Tequila and elderflower cordial are coolly accented with fresh English cucumber water, garden mint and hand squeezed lime juice. The perfect compliment to our incredible fresh shucked oysters.
Bottles & Cans
Heineken Light 6-Pack

$19

Narragansett Lager 6-Pack

$15

Sixpoint Brewing Pilsner 6-Pack

$19

Dogfish Head IPA 6-Pack

$19

Pacifico 6-Pack

$19
ALL BOTTLED WINES PRICED $100 OR LESS, ENJOY 50% OFF!
Sparkling
Prosecco, Brut

Split, Label May Vary

$10
Rosé
Domaine De La Chapelle, "Saint Victor"

Cote De Provence, France 2018

gl $14

Summer Water Rose

Napa, California 2017

gl $11
Barbera
Pugnane 2013 Piedmont, Italy
Pugnane

Piedmont, Italy

$50
Cabernet Sauvignon & Blends
Ramsay 2016

North Coast, CA

$50

Pine Ridge 2015

Napa Valley, CA

$120

Groth 2015

Oakville, Napa Valley, CA

$120

Chateau Cantemerle 2015

Haute Medoc, Bordeaux, France

$95

Chateau Branaire-Ducru 2016

St Julien, Bordeaux, France

$150
Grenache & Blends
Domaine Du Vieux Telegraphe 2013

Chateauneuf du Pape, Rhone Valley, France

$150

Casa Gran Del Siurana GR-174 2017

Priorat. Spain

$60
Malbec
Zuccardi Q 2016

Mendoza, Argentina

$55

Achaval Ferrer, 2017

Mendoza, Argentina

$65
Merlot & Blends
Cain Cuvee NV 10

Napa Valley, CA

$65

Duckhorn 2015

Napa Valley, CA

$95

Chateau Haut-Segottes 2013

Saint Emilion, Bordeaux, France

$70

Chateau Faugeres 2015

Saint Emilion, Bordeaux, France

$120
Petite Sirah
Ridge "Lytton Estate" 2015

Dry Creek Valley, Sonoma, CA

$90
Syrah
Domaine Des Entrefaux 2017

Crozes Hermitage, Rhone Valley, FR

$65
Pinot Noir
Calera 2016

Central Coast, CA

$70

Rochioli 2015

Russian River Valley, Sonoma, CA

$165

Bergstrom "Shea" 2016

Dundee Hills, Oregon

$135

Benjamin Leroux Bourgogne Rouge, 2016

Burgundy, France

$65

Domaine Vincent Bouzereau Volnay 2014

Cotes de Baune, Burgundy, France

$110

Domaine Rossignol-Trapet 2014 Gevrey-Chambertin "Vielles Vignes"

Cote de Nuits, Burgundy, France

$120

Domaine Michel Gros Vosne Romanee 2014

Cotes de Nuits, Burgundy, France

$160
Sangiovese
Rodano Chianti Classico 2015

Tuscany, Italy

$55

Fattoria Rignana Chianti Classico 2015

Tuscany, Italy

$56

Castello DinRadda, Toscana 2017

Tuscany, Italy

$54
Syrah
Domaine Des Entrefaux 2017

Crozes Hermitage, Rhône Valley, France

$65
Tempranillo
Bogedas Luis Alegre "Koden" 2016

Rioja Alevesa, Rioja, Spain

$45
Albarino
Palacio De Fefinanes 2017

Rias Baixas, Galicia, Spain

$55
Chardonnay
Banshee, Chardonnay

Sonama Coast, CA , 2016

$55

Dehlinger "Un-Filtered" 2015

Russian River, Sonoma, CA

$95

Cakebread Cellars 2017

Napa Valley, CA

$90

Kistler "Les Noisetiers" 2017

Sonoma Coast, CA

$125

Domaine Oudin, Chablis 2017

Yonne, Burgundy, France

$55

Domaine Du Clos Salomon 2016 Montagny "Le Clou"

Givry, Burgundy, France

$75

Domaine Dauvissat Chablis, Premier Cru "Beauroy" 2017

Yonne, Burgundy

$85

Bret Brothers, Pouilly Fuisse 2017

"Terre De Vergisson" Vinzlle, Burgundy, France

$105

David Moreau 'Les Pellans" Meursault 2016

Cote de Beaune, Burgundy, France

$125

Jean-Yves Devevey Chassagne-Montrachet I CRU 2013 Les Macherelles

Cote de Beaune, Burgundy, France

$160

Domaine Michel Niellon Chevalier Montrachet, GRAND CRU 2012

Cote de Beaune, Burgundy, France

$450
Sauvignon Blanc
Frog's Leap 2017

Napa Valley, California

$55

Mount Beautiful 2018

North Canterbury, New Zealand

$45

Regis Minet Pouilly Fume "Vielles Vignes" 2017

Loire Valley, France

$45

Thirot-Fournier, Sancerre

Loire Valley, France, 2018

$55

Lucien Crochet Sancerre 2017 La Croix Du Roy

Loire Valley, France

$65
Gruner VeltLiner
Gobelsburg Steinsetz 2017

kamptal, Austria

$60
Muscadet
Domaine Des 3 Versants 2017

Sevre et Maine Sur Lie, Loire, France

$40
Pinot Grigio
Schiopetto "Collio" 2016

Friuli, Italy

$65

Tenuta Beltrame "681" 2017

Friuli-Venezia-Giulia, Italy

$50
Riesling
Donnhoff Kreuznacher Kahlenber G Trocken 2016

Nahe, Germany

$75
Champagne
Laurent Perrier Brut NV

Tours-sur-Marne, Champagne, France

1/2 b $37

full b $70

Dom Ruinart Brut Rose NV

Reims, Champagne, France

$180

Paul Roger Brut NV

Epernay, Champagne, France

$110

Perrier-Jouet "Belle Epoque" Brut 2008

Epernay, Champagne, France

$225

Roder "Cristal" 2008

Reims, Champagne, France

$495
Sparkling
Gancia Prosecco Brut

Conegliano, Italy

$35

Schramsberg Brut 2012

Blanc De Noirs, North Coast, CA

$85

Pol Clement, NV

Rose, France

$50
Rosé
La Chapelle "Saint Victor"

Cotes de Provence, France 2018

$50

Domaine Martin, Rose Sancerre

Loir Valley, Sancerre, France 2018

$50