Main content starts here, tab to start navigating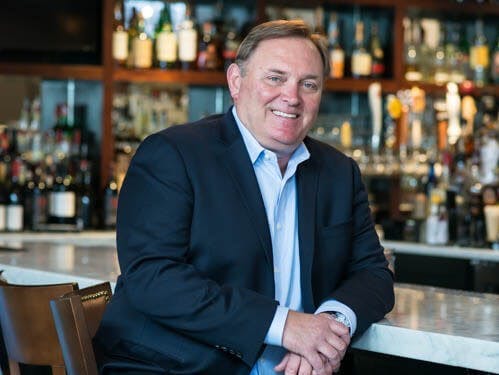 Leslie Barnes
Managing Member
Les Barnes' passions fall in equal parts aquaculture and hospitality. As a child, he spent many early mornings at New York's original Fulton Fish Market learning the art of fish buying from his father, and passionately honed those skills over the next fifty years. "My father learned the ropes fishing the North Sea and getting his start opening Fish & Chips joints in London. He would wake me up at 3:00 am, and we'd go off to the fish market to source standout fish—the type that jump out and say, 'Buy me,'" says Barnes. By the age of twelve, Barnes knew all the fundamentals of buying and preparing fish, and with that knowledge, began working at his family's restaurant, London Lennie's in Queens NY. There he went on to learn about hospitality as he worked every station in the restaurant.
In time, Barnes developed friendships with the best fishmongers and oystermen in the Northeast, helping to forge the restaurant's reputation as a premium seafood establishment with supremely fresh fish and honest pricing. A skilled aquaculture buff, he learned to tell a fresh fish from a day old one by merely looking at it. Barnes graduated from Florida International University in Miami, FL with a degree in Hospitality Management in 1977. Just days after graduation, Barnes drove up to New York to take over the family business. "There can only be one captain of this ship," he exclaimed, a saying his father was fond of using with him. Barnes was given the keys to London Lennie's, and as the reins were handed over, Barnes promised his father to continue the legacy of sourcing the highest quality seafood and contributes his success to this steadfast devotion to excellence.
Les runs Saltaire with his fashion savvy Wife Elizabeth, known as Beth, who created most of the Public relations and social media for the Port Chester location. Her 25 or so years as a retail buyer, along with Public relations as a known fashionista; quickly gained her the knick name as "Fishionista" at work.
She has a love of people and hospitality , a good sense of the nightly guest list, and works closely with the staff. She gets the "sea news" out weekly on promotions, dinner events, and music gigs. The quality of atmosphere and ambiance is well noted at Saltaire in the lounge and in the Chart Room- which Beth watches over closely.